Date/Time
Date(s) - 01/08/2018 - 25/08/2018
All Day
Location
Assembly Rooms
Categories
Audrey is returning to the greatest arts festival in the world.
Yet again, Audrey will be on George Street, showing free short films all day and then at 6pm and 7.30pm we will have comedy showcase gigs "The Reel Comedy Club". Either a mixed bill of great acts or a fantastic comic doing a special one off hour (maybe their show, or maybe something different!)
TICKETS FOR THE REEL COMEDY CLUB – Click Here
We're currently booking performers for these evening shows. If you are interested please contact Ben – Click here.
Confirmed so far…
6pm – REEL COMEDY CLUB (2nd to 25th) NEW ACTS BEING BOOKED ALL THE TIME

2nd Aug – Tom Houghton, Chris Washington, Charmian Hughes, Archie Maddocks and Jen Brister (Mixed Bill)
3rd Aug – Helen Duff, Christopher Macarthur-Boyd, Riordan DJ, Jenny Collier & Anna Materowska
(Mixed Bill)
4th Aug – MITCH BENN (Solo Show)
5th Aug – Bark and B – adult puppets, Frank Foucault, Eddy Brimson, Bennett Arron, Fred Cooke (Mixed Bill)
6th Aug – Faye Treacy, Rosie Jones, Alun Cochrane and Olaf Falafel (Mixed Bill)
7th Aug – Esther Manito, Joe Sutherland, Alice Fraser, Ashley Haden and Murray Hill (Mixed Bill)
8th Aug – MARCUS BIRDMAN (Solo Show)
9th Aug – Tamsyn Kelly, Benedict Pope, Ed Night, Colin Chadwick and Adam Knox (Mixed Bill)
10th Aug – Chris Stokes, Danny Clives, Michael Odewale and Luka Muller (Mixed Bill)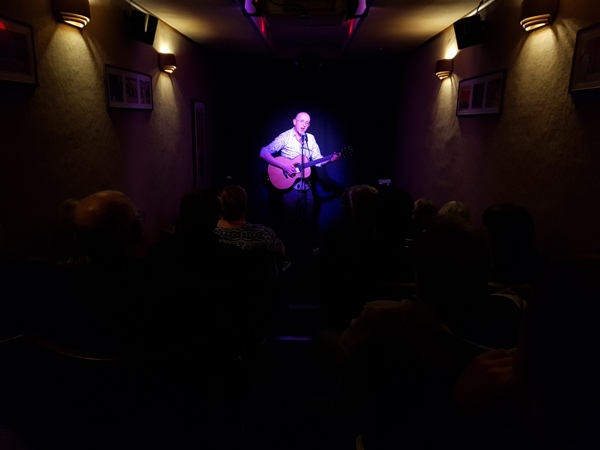 11th Aug – SILKY (Solo Show)
12th Aug – Nick Hall, Loud and Louder, Sarah Bennetto, Julian Lee and The cutlery safety expert Ian Crawford (Mixed Bill)
13th Aug – DAY OFF
14th Aug – Jilberto Soto, Matt Rees, Mark Simmons, Vince Ebert & William Stone (Mixed Bill)
15th Aug – FLO AND JOAN (Solo Show)
16th Aug – Barbara Nice, Vladimir McTavish, Pamela DeMenthe and James Nokise (SOLD OUT)
17th Aug – David Mills, Patrick Monahan, Lucy Frederick, Simon Munnery and Noel James (Mixed Bill)
18th Aug – Bread and Geller, Peter Jones, Megan Shandley, Bronson Jones and Donald Hamilton (Mixed Bill)
19th Aug – Joe Rooney, Tom Little, Tom Ward, Masud Milas and Christopher Sit (Mixed Bill)
20th Aug – Alice Fraser, Ross Brierley, Fred MacAuley, Daniel Muggleton, John Hastings and Luke Mazzamuto. (Mixed Bill)
21st Aug – Justin Matson, Joe Bains, Moon and Tudur Owen (Mixed Bill)
22nd Aug – Emily Ferrier, Saskia Preston, Matt Winning and Dave Fensome. (Mixed Bill)
23rd Aug – Sarah Southern, Rob Oldham, Mary Flanigan, Robbie McShane and Jonathan Flanagan (Mixed Bill)
24th Aug – Megan Shandley, Tom Mayhew, Julian Lee, Vivienne Kay and Louise Atkinson (Mixed Bill)
25th Aug – Dave Fensome, Mo Saffaf, Ryan Dalton, Max White, Lily Phillips and Esther Manito (Mixed Bill)
TICKETS FOR THE REEL COMEDY CLUB – Click Here
7.30pm – REEL COMEDY CLUB (2nd to 25th) NEW ACTS BEING BOOKED ALL THE TIME

2nd Aug – Sindhu Vee, Rich Wilson, Eamon Goodfellow, Ian Smith and Gavin Webster, (Mixed Bill)
3rd Aug – Joanne McNally, Lou Sanders, Maff Brown, Lost Voice Guy and George Lewis (Mixed Bill)
4th Aug – Kelly Convey, Dom Holland, Mel Byron, Ali Brice and Garrett Millerick (Mixed Bill)
5th Aug – Gordon Southern, Marianne Ponsonby-White, Athena Kugblenu, Jake Lambert and Bethany Black (Mixed Bill)
6th Aug – Catherine Bohart, Sarah Keyworth, Carey Marx, Sam Russell and Mawaan Rizwan (Mixed Bill)
7th Aug – Damian Clark, Josh Berry, Lorna Shaw, zazU and Chris Betts (Mixed Bill)
8th Aug – Anna Nicholson, Cassie Atkinson, Laura Lexx, Nicky Wilkinson and Chris Turner (Mixed Bill)
9th Aug – Luca Cupani, Red Richardson, Just these Please, Michelle Christine and Jacqueline Mifsud (Mixed Bill)
10th Aug – Luke Kempner, Benji Waterstones, Aiden 'Taco' Jones, Sister Mary and Andrea Hubert (Mixed Bill)
11th Aug – Mad Ron, Kathryn Taylor, Rahul Kohli, Joey Page and Rory O'Hanlon (Mixed Bill)
12th Aug – Ola the Comedian, Oleg Denisov, Tom Brace, Edd Hedges and Stephen Carlin (Mixed Bill)
13th Aug – DAY OFF
14th Aug – John Whale, Alice Marshall, Stevenson Experience, Mat Ricardo and Seymour Mace (Mixed Bill)
15th Aug – Northern Power Blouse, Shalk Bezuidenhout, Maisie Adams and Sean McLoughlin (Mixed Bill)
16th Aug – HARRY AND CHRIS (Solo Show)
17th Aug – Alistair Barrie, Great British Mysteries, Ramon Rivas, Chris Thorburn and Grainne Maguire (Mixed Bill)
18th Aug – Adrian Minkowicz, Jessica Michelle Singleton, Paul F Taylor and Short'n'Curly (Mixed Bill)
19th Aug – Luke McQueen, Alison Spittle, Chris Kent (Mixed Bill)
20th Aug – Daniel Muggleton, Gussett Grippers, Rik Carrenza, Charlie V Martin and Jack Johnson (Mixed Bill)
21st Aug – Cassie Atkinson, Sara Barron, Matt Hoss, Olaf Falafel and Ada Campe (Mixed Bill)
22nd Aug – NO SHOW
23rd Aug – Andrew O'Neill, Nick Page, Thom Tuck and Barbara Brownskirt. (Mixed Bill)
24th Aug – Steve McLean, Scott Bennett, Nathan Lang, Harriet Kemsley and Dave Green (Mixed Bill)
25th Aug – Joe Foster, Julian Deane, James Hancox, Sian Davies and Mamoun Elagab (Mixed Bill)
All line ups subject to change
TICKETS FOR THE REEL COMEDY CLUB – Click Here