THE ORIGINAL USE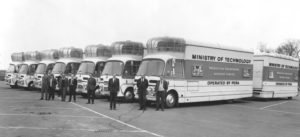 There were seven mobile cinemas made for the Ministry of Technology in the 1960's. Each one had a trailer. From 1967 to 1974, they would visit engineering companies around the UK  promoting modern production techniques.  In the process the trailer was used as a demonstration space once audiences had received their initial engineering lectures and watched a film in the cinema
LIFE AFTER THE MINISTRY OF TECHNOLOGY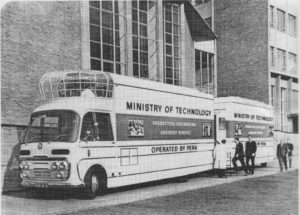 The Government auctioned off the Cinemas and their trailers in 1974. KJU267E was bought by Lord (Bill) MacAlpine. He had recently saved the Flying Scotsman from a period of quarantine in America. He used the Mobile Cinema as a method of promoting the repatriation of the famous steam train to the UK.
Shortly after this, the cinema and trailer were split up. The Cinema stayed with the Transport Trust until 1990, then it spent  a further 13 years in Essex (owned by with Peter Rawlings), then a short period with Rob Howell and Nancy-Rose Mills before Ollie Halls purchased and started the restoration process in 2005.

FINDING THE TRAILER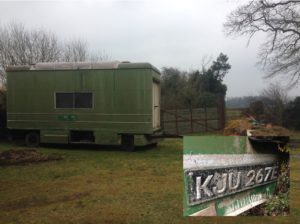 The trailer had not been seen since 1975 so the chance of finding it was becoming increasingly unlikely.
However in 2015, rumour of the existence of one of the trailers was reported and the resulting visit to a farm in Wiltshire uncovered the most remarkable discovery. A quick walk to the back of the trailer and everyone present realised that the trailer was indeed the original trailer to the only remaining Mobile Cinema (KJU267E).
The farmer who owned the trailer was using it as a workshop for his carpentry. He kindly sold the trailer back, and both vehicles were reconnected together for the first time in 40 years.
For all announcements about the trailer please join the mailing list (at the bottom of the home page) – click here
The Trailer needs a lot of work!
There is a lot to do and a lot of work has been done. Watch our social media channels for updates.