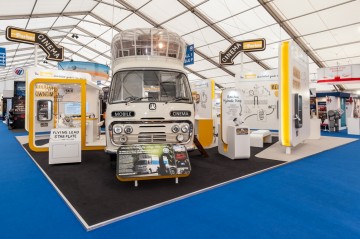 In September we appeared on an exhibition stand at Offshore Europe, an exhibition for the Oil and Gas industry. With Engineers making up 95% of the visitors you can not imagine how busy we were, meeting new friends, showing them round and holding seminars inside the cinema.
The stand included large neon 'Cinema' signs that were 6m high – which we needed to supply structural calculations for. Also we had a ticket booth for the seminars along with a pop corn machine with branded pop corn boxes.
We also had a 'live illustrator' on the stand who drew all the graphics on the walls.
The whole package was totally irresistable to the visitors and we had the four busiest days of our lives.